Make Beautiful Memories While Capturing Beautiful Moments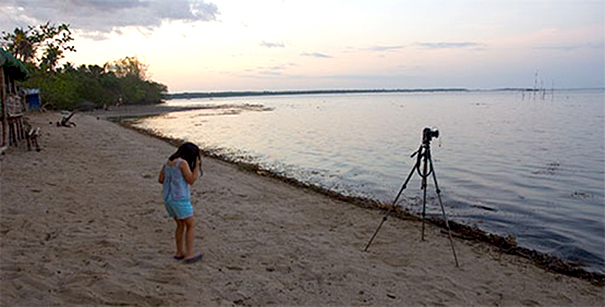 Its great to get out there and capture the beauty of nature and of the surroundings you are in. But, for great memories I also capture the behind the scene. This picture were my daughter Abigail (who was only 5 years old then) was patiently standing by my side, doing her best to assist me to whatever I required. I took a photo of her just enjoying herself looking for some small shells and nice pebbles while I waited for the right light to take my shot.
This photo was taken in December 25, 2004 in Pangasinan, Philippines. I remember the following day the tide was unusually low. You could walk to up to 500 meters out the shores. The following day, December 26, I heard on the news that there was a huge 9.1 earthquake that prompted a Tsunami in the Northern tip of Sumatra, Indonesia. The sea from our side was literally sucked out. That was a very memorable day not only for about 230, 000 people lost their lives in countries that were affected (Indonesia Sri Lanka India Thailand Maldives Malaysia Madagascar Somalia Kenya Tanzania South Africa) but also the great bonding we had. I was thankful we were not affected as the tsunami direction went towards the west.
This would probably never happen in my lifetime, but it just precious memories.
The photos below were some that I captured that day. Camera: Nikon FE2 with 35mm Nikon Lens on Fujifilm Fujicolor 200 Color Negative Film (35mm Roll Film, 24 Exposures) Camera setting: ⅛ seconds on f/16